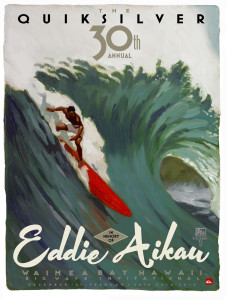 Aloha Everyone,
Here's the Quiksilver Eddie Aikau Big Wave Invitational art for the 2014-15 season for those that haven't seen it in the surf magazines.
Let's hope they get some waves now.
Had a great time attending the opening ceremony and party.
Many thanks to Glen Moncata and George Kam. We don't as of now have any posters.
You may be able to ask Quiksilver although I don't see any for sale on their site. Give them a call.
Best Aloha to All,
Michael